I'll be home for Christmas…
You can count on me
Please have snow & mistletoe
And presents on the tree
I have been singing one of my favorite Christmas songs all week.  
And even just typing those wonderful words, I can hear Bing Crosby's voice.
Before you think I have skipped over everything fantastic about Fall, I haven't.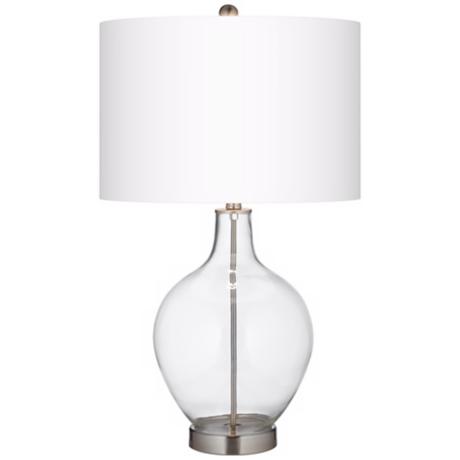 If you are not familiar with Hometalk, you are going to want to create a profile and see 
what you have been missing.  It is everything and anything home related.  A feast for the
eyes and a wonderful way to ask your home decor, DIY, home improvement (and more)
questions. And get great feedback from those in the know.
And Lamps Plus, well they have taken gorgeous lighting and made it attainable.  Not to
mention selection.  They even have one style of lamp that comes in over 100 different 
colors.  Love it! 
So thank you to Hometalk & Lamps Plus for teaming up and creating this awesome 
challenge.  Here is what I did with my
Fillable
Ovo Clear Glass Table Lamp…
I love to mix materials and styles.  I wanted to add a contrified touch, but still keep the 
lamp's elegant style intact.  I began by gathering up some pine cones and lightly spray painting 
them with some matte white spray paint.  After they were dry I filled the base of the lamp with
my white pine cones and a mix of sparkly and shiny ornaments. 
The lamp base is easy to loosen by using the wing-nut you see in the picture above.
Once I was done I tightened the base down and used some chicken wire to wrap around
the white lamp shade.  Since it comes on a roll it was easy to pull it around the shade, and 
use a pair of wire snips to trim it down and fold the edges under the lip of the lamp shade 
so it was secure.
Then I spent the afternoon happily snapping pictures and telling the kids that Christmas is 
still a ways away.  But a girl has to plan.  And have time to dream of just how she is going
to put it all together to make friends and family feel welcome at the Holidays.  And how she
can be creative without breaking the bank never hurts either.
And some
time to fluff our nests and sing a little too.
Thank you so much for sharing my Countrified Holiday Lamp project with me today…
Christmas Eve will find you, 
Where the love light gleams… 
I'll be home for Christmas,
If only in my dreams.
**Lamps Plus supplied the lamp for this project, however all opinions are 100% my own**