This post brought to you by ALPO® Brand Dog Food. All opinions are 100% mine.
When we adopted Penny last summer I initially thought of it as our family adopting a rescue dog.
She came in as a stray and they estimated her to be about 2 1/2 years old.  She hadn't been spayed
yet, and other than a broken front tooth and a lot of snuggles, we have no clue what her life was
like before we found her online and brought her home.
We have learned a few things about Penny since she arrived:
Penny shares the couch with you
Penny cannot stand baseball caps (someone mean must have worn a baseball cap we guess, poor baby)
Penny does not sleep in her bed.  Her bed is wherever we are.  I must admit I love this, she's so sweet I can't say no
Penny needs more practice on her leash, especially when she encounters other dogs, working on this.
Penny likes to eat.
And you may have heard about the giant snow and ice storm that hit Washington and Oregon the past week, yeah, we were right smack dab in the epicenter.  Penny has been in snow before, but not this deep.  So she ran, and ran, and the only way she would come inside (this applied to the kids as well, but they ate granola bars and cocoa) was to call her for dinner.
When we decided to get a dog, we knew we didn't want to jump around with brands and types of food, depending on what is on sale.  Shortly after she arrived I had the chance to try ALPO's variety dog food and she loved it.  Recently I tried a new wet dog food by Alpo® called Alpo Chop House®, in varieties like Filet Mignon, T-bone Steak and Rotisserie Chicken.  And the pieces are nice and small which is great for small breeds.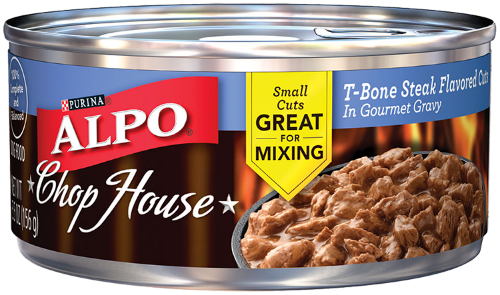 They come in 5.5 ounce cans which are great for eating as they are, or mixing with a little dry food.            Designed to provide 100% complete, balanced nutrition just makes grocery shopping a little easier and both of us happy.
Oh yeah, she loved it.  And even came in from the snow.
A little nap in the playroom was in order after playing hard and having a good meal.  I have joined the ranks of folks head over heals in love with their pooches, and I just want her happy and healthy for a really long time.
And a little spoiled too 🙂
I follow Alpo® on ALPO® on Instagram. and ALPO's Facebook Page, you can check them out and follow along too!
Off to help Penny work on her snow dog skills, and see how far she can walk on the freezing rain layer before she breaks through to the snow.  And then of course it's dinnertime, which she never seems to let me forget.
As always, thank you so much for reading friend-