The Portland area has a wonderful mini blanket of snow this weekend topped by some dangerous ice that is keeping my inside enjoying my coffee and fireplace today.
So I have to admit, while I like to keep up on trends, my home is an eclectic mix of what I love. A mish mash of farmhouse/boho/and lots of painted furniture.
I have forecasted trends that you may remember, most not brag-worthy but still worth mention:
The Bomber jacket. Long before Top Gun this girl rocked a leather bomber jacket. It was not because I was cool or saw into the future, we lived in Minneapolis and my Step-dad had a sweet leather jacket from being overseas. And it was really cold, the jacket kept me warm, more function than style.
Skinny jeans. Any of you "peg" your jeans when you were younger perhaps? Then you nailed that trend long before it was mainstream. We were soooooo cool.
Ok last one, spray paint. I spray painted all of my furniture and accessories forever before spray paint was cool. I was a single mom trying to make her house look amazing on a zero budget so again, not about style as much as revamping what I had to last a little longer. Funny thing some things stick as I am sure I have 75+ different colors and kinds of spray paint. That is another day.
Onto some really fun, some unexpected, and some I am super excited about home trends for 2017!
source
Greenery the Pantone color of the year captured in this gorgeous chair. My bright green painted dresser you may remember, she sits proudly in my living room full of lego's and toys. Hopefully she will not feel smug that she saw this coming a couple years in advance hee hee.
click here to check out how I painted this vintage dresser and my homemade chalk paint recipe!
I don't know about you but I am so excited to bring a bit more of nature indoors with this year's beautiful color of the year. Navy or purple may get my attention but GREEN? Now we are talking, I feel an accent wall coming on….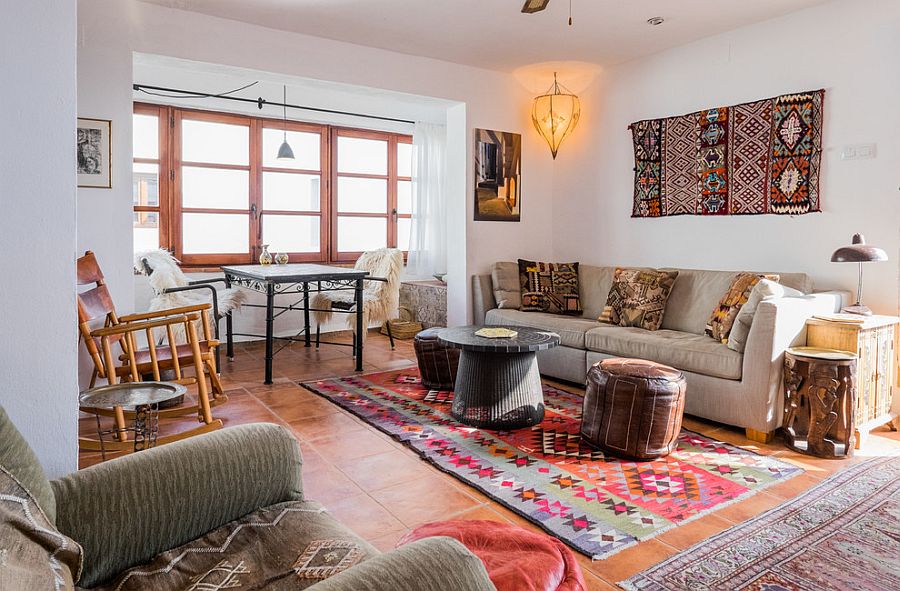 Terracotta tiles are the next big thing. Move over white, and brace yourself for a warmer yet still neutral alternative. This can be brought in so many ways, huge terracotta pots for your plants all in a group, or a small area like the warm brick chimney that grounds the next picture below so nicely. Either way I love the idea and it will be fun to see what comes out this year in this versatile color!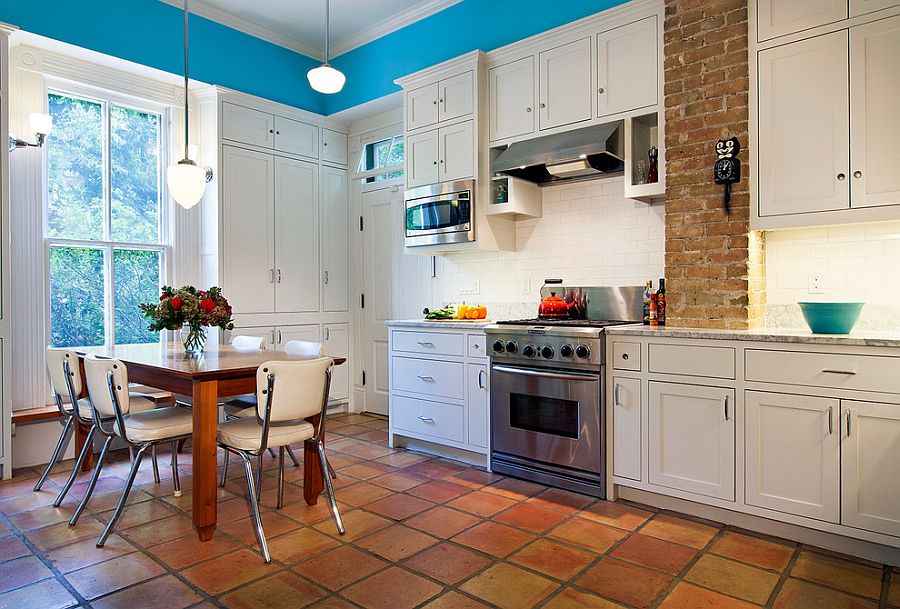 source
source
Some of you are expert pattern mixers, I hope to be some day. When I try it sometimes ends up looking like my grouping drank too much and went shopping. This is where a boho flair comes in as it's all about mixing and blending for a warm eclectic feel. These drapes are super cool, and pull two trends together, the Color of the Year and pattern mixing!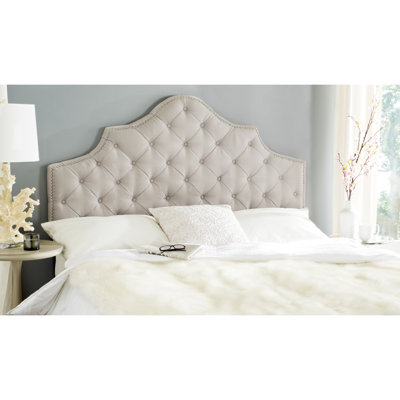 source
I have never had an upholstered headboard and those of you that do are sitting pretty on this one. From simple and sleek to tufted and extravagant, this year you will see a whole lot of warmth and style brought in with an array of upholstered headboards.
source
JEWEL TONES! Yep that one is in all caps as I have something inside me that needs (yes a real need that can only be satisfied by what I am about to tell you) a piece of purple furniture for true inner peace. My peace of mind is in the balance here so on the hunt I have been for something purple and velvet.
source
Marble (yeah!!) continues to be a great go to material that provides such a wonderful base like in a clean, modern kitchen like this one. A couple gorgeous slabs of marble are on my dream list too.
Well there you have it, trends don't have to be something we have to follow but a fun way to throw a couple new things in the mix or see that we may already be rocking a few right now!
As always friend, thank you so much for reading, stay warm and crafty.
Love you bunches,
xo, Tanya
linking up to: http://www.savvysouthernstyle.net/
And these awesome parties: https://www.twelveoeightblog.com/awesome-link-parties