This is a Sponsored post written by me on behalf of Gallo Family Vineyards. All opinions are 100% mine.
I grew up as many of you know on a little farm in Central Washington.
We raised cattle, had horses, and a garden that had a reputation around
town for being amazing each year.
We grew a lot of soft fruits, apricots, plums, pears. But
my two favorite fresh fruits were our peaches and strawberries.
We had a huge peach tree in our backyard, and every day my grandpa would carefully
check it's limbs for the ripe fruit that was ready to come off.
It was magical. In the evenings we would line up a
few bowls, slice the juicy peaches into each one, and pour a bit of fresh
cream over the top.
Doesn't that sound wonderful? It is!
I am excited to be teaming up with Gallo Family Vineyards and creating one of my
favorite wine cocktails for you today.  It incorporates a bunch of juicy peaches too,
which makes it taste fresh, sweet and fabulous!
We enjoy wine with dinner some evenings, and don't just save it for special
occasions. We like to mix it up a bit too and try new things, like this
Peach Sangria that we love to make during the warmer months. After a day
working in the yard (or hot gluing like crazy!) putting my feet up and sipping a fruity
sangria is divine.
We celebrate National Moscato Day on May 9th! Make sure and check
out the Gallo Family Vineyards Website
to learn more about their awesome variety of wines!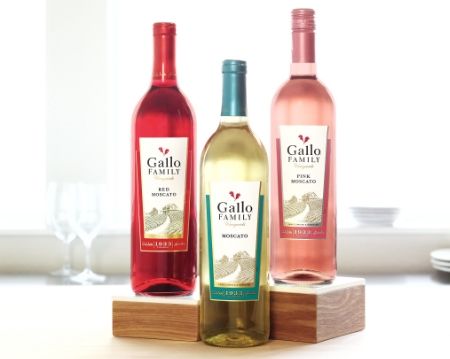 I like to use a Moscato for my sangria, some people like to use a white
wine, but I love the addition of fruity notes, and how versatile it is.
Here is what I used to make my
Refreshing Peach Sangria:
makes 4-5 servings
3-4 sliced peaches
1 cup of Peach Schnapps
6 cups of Moscato wine
2/3 cup of sugar substitute (like Truvia) or sugar
Sparkling water
Directions:
Slice your peaches and place them in the bottom of a large pitcher.  Cover them
with sugar, add Peach Schnapps, wine, and stir.  Chill for at least two hours.
When ready to serve, fill each glass leaving a little bit of room for sparkling water
at the top.  Add a few slices of peaches from the pitcher to the glasses, and a
splash of sparkling water.
Enjoy!!
The possibilities are endless with so many varieties and ideas. You
can get creative or just enjoy them as they are. Gallo Family Vineyards
Moscato is available for $4.99 for a 750ml bottle at local wine retailers
and grocers nationwide (US) as well as online through The Barrel Room.
Want to be part of a super fun Twitter Party? Join me, and the Gallo Family
Vineyards National Moscato Day Twitter Party and virtual live toast with
me May 9th at 7pm EST/ 4pm PST. No invite needed, just tag #MoscatoDay and
@GalloFamily on your posts! There is also a chance to win one of 5 $100
Visa Gift Cards,  Official Rules but only those attending can win.
Hope to see you there!!
RSVP here if you'd like: http://www.copykat.com/2014/05/02/pina-colada-moscato-wine-cocktail
Are you ready for casual summer evening now or what?
I know I am for sure!!
I follow Gallo Family Vineyards at Follow @GalloFamily on Twitter
Save your corks for charity! Check it out at:
Save your Gallo Family Vineyards corks to help raise up to $50,000 for the Meals on Wheels Association of America
***You must be 21 years or older to drink alcoholic beverages and as always,
please remember to drink responsibly***